Man Asian Literary Prize winner, Walter Scott Prize recipient, Booker Prize and IMPAC Dublin Prize shortlister – these coveted writing accolades have been bestowed on one of our very own, Tan Twan Eng. The fruits of his labour, however, have not been gained easily. The novelist tells The Peak about his journey and what lies ahead.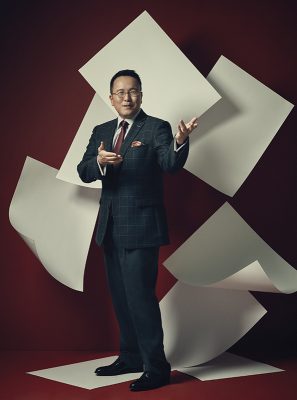 Tan Twan Eng is telling me about the time he met his literary hero, Kazuo Ishiguro. "I managed to meet him two years ago – he and his wife came, we met at a café in Kensington and then I had to rush off for a talk I was giving," he says. But, in Tan's hurry, "I left him with the bill!" he laughs, still mortified by the thought. "I stiffed him for the bill and just said, 'Ok, bye'!" The writer shakes his head, incredulous, as he stirs his second mug of kopi o in the Chinese coffee shop a few doors away from the photo studio where his cover shoot is scheduled to take place. "We didn't even talk about books!"
Both photo studio and coffee shop are located in the industrial part of Kota Damansara in Selangor. A few mechanics and factory hands are also on hand, having their breakfasts, bracing themselves for the day ahead. Bespectacled with a gentle, open expression, Tan sticks out from the working class crowd in his crisp white shirt and slacks, looking like an academic waiting to have his car serviced.
While he may exude a certain calm, Tan's demeanour belies the tenacity needed to break into a notoriously cloistered and seemingly impenetrable world. Tan is, in fact, one of Malaysia's literary giants and has inadvertently helped spearhead and establish the region's burgeoning English literature scene with two novels, both of which have had the providence of doing exceptionally well in the awards circuit. Having tea with Kazuo Ishiguro is just one of the rewards for having come this far in the profession.
Not that Tan's own achievements are anything to sneeze at. His debut novel, The Gift of Rain, was longlisted for UK's prestigious Man Booker Prize. His sophomore effort, The Garden of Evening Mists, shot into the literary stratosphere with a 2012 Man Booker shortlist.
In 2013, it won a Man Asian Prize (beating Nobel Literature Prize winner Orhan Pahmuk) and a Walter Scott Prize that trumped the bookies' favourite, literary stalwart Hillary Mantel's Bring Up The Bodies, in a surprise triumph. Both novels are still in print, translated into as many as six languages each, and finding new markets in different countries. No small feat in this ever fickle, ever changing world. Last year, The Guardian picked The Garden of Evening Mists as one of the best books of the 21st century. The book has also been optioned for a movie.
Tan himself did not imagine things snowballing as massively as they have. Certainly, there were many stop-starts along the way and, on the surface, there was no indication that a career in writing was on the cards, apart from a love of reading. "I think my parents are the only ones in the world who regretted encouraging their child to read because my grades just dropped after I discovered books – I was failing everything but reading under the covers every night!"
Bad grades and avid reading seem unlikely allies to a career in Intellectual Property Law. The idea for a novel came much later when Tan was in South Africa while pursuing his Masters in Shipping Law. "I wanted to write about Penang, the many changes that were happening there, with a lot of its history disappearing. Before starting, I had this image of a very huge book on the entire history of Malaya/Malaysia, but that was sheer arrogance on my part," he laughs. "Then I thought – cannot do it lah, so I took two small characters from that and started on something smaller with them. That's how The Gift of Rain grew."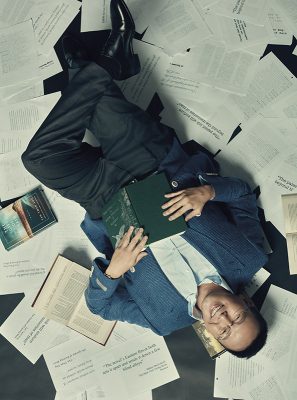 "I'm writing first of all for myself. I'm also writing for somebody who enjoys the richness of the English language – doesn't matter if you're white, brown or yellow."
Tan's choice of genre – the historical novel – has come mired with preconceptions, particularly from some Malaysians who are eager to criticise the period he has chosen to write about (Malaya/Malaysia, pre- and post-World War II) and accuse him of pandering to Western tastes. The reality, however, couldn't be further from the truth.
"The irony is that the publishers in the UK didn't want it initially," he explains. "Getting published had a lot to do with luck. Every single publisher we sent The Gift of Rain to turned it down. The editorial departments would say take it but the sales departments would say, 'We can't sell it, we don't know how to market it.' One of the editors said it was one of the most boring books she'd ever read!"
It got to a point where even his agent started having doubts. "My agent has been in the business for 40 years," says Tan. "When everyone turned down the book, she started to wonder about her own judgement as well!" It took the daring of a new, independent publisher, Myrmidon Books, to accept the manuscript.
"I was probably only the third or fourth person they'd signed up," says Tan. "It was a learning process for the both of us. I'd never been published and the owner had never been in publishing. He hadn't realised how difficult it was – when he published The Gift of Rain, no bookshop wanted to stock it initially!"
Of course, that all changed when The Gift of Rain got longlisted for the Booker Prize and what must have felt like sweet vindication for all the efforts put in by everyone involved. "The best part was when my agent started getting e-mails from all the other agents and publishers who had turned the book down," he laughs. The book community was gobsmacked. "They all went, 'Well done'."
His subsequent windfall for his second book has only served to cement his place with the literati. Hilary Mantel has duly taken note of Tan, not least because both had historical novels running neck and neck at the awards circuit then. "During the Booker Prize shortlisting, the six shortlisted authors were asked to do a talk at the Southbank Theatre one evening," he says. "Out of the corner of my eye, I saw that Hilary was already there with her husband. I wasn't sure whether to say hello. I was still wrestling with the question when she got up from her chair and came across the length of the room to me. She said, 'Congratulations! It's so wonderful to finally meet you! I wish you all the best!' I thought to myself, what a classy, beautiful lady! She's such a towering talent, and she didn't have to come and say hello to me or make me feel at ease.
"I was very happy for her when she won the Booker Prize for Bring Up The Bodies a week later. And I was delighted when our paths crossed again at the announcement of the Walter Scott Prize for Historical Fiction, in Melrose. We were all sitting together in the front row, and when I was announced as the winner, she reached across from her seat to take my hands in hers and gave me a huge, heartfelt smile."
Tan is also unperturbed by the other criticism that he "writes for the ang mohs". "I'm writing first of all for myself. I'm also writing for somebody who enjoys the richness of the English language – doesn't matter if you're white, brown or yellow." He is also unapologetic about writing about the Japanese Occupation. "I've always been interested in this period in South-East Asia – it's fascinated me that not many English language fiction writers have written about it. I still think there are so many different stories to tell about this period – what about the Malay, Eurasian or Indian experience of the Occupation?"
It does seem as if his detractors have lumped his writing with that of his contemporaries into one big blur, with some making sweeping statements without having even read his books. "It's just lazy generalisation," says Tan, taking another sip of coffee. "I hate this categorising of pre-something or post-something. If you want to call this type of fiction post-colonial, aren't we all post-colonial in a way? I think a good book will stand the test of time regardless and that's what I'm trying to aim for. My idea of success is to create a body of work that will be read long after I'm gone, and to have readers enjoy my books and feel they haven't wasted their time reading them."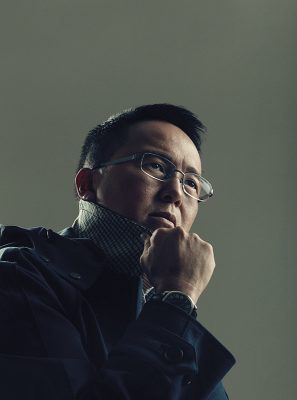 "Before I started writing The Gift of Rain, I thought I wanted to write a very commercial thriller."
At the heart of The Gift of Rain is essentially a tender love story and what makes it is the refusal to pigeonhole the characters. The protagonist, a Malayan of mixed parentage, comes of age when he meets a man who would soon become both mentor and tormentor. In Tan's second book, a lawyer hides her dark past and her life is inextricably linked with that of a Japanese gardener's. "They say the second novel is always harder," says Tan. "You put all your heart and soul into the first one – now, what else can I tell the world? So that was hard and that's why it took so long. I thought, let's do a follow-up in terms of the time frame – like a B-side to a single – and decided to write about after the war. I had an image of a woman in my head but there was only one character and I didn't know what to do with her."
Tan then had the great fortune of meeting a man who would become one of his most memorable characters. "I was introduced to a gardener who used to tend to the Emperor of Japan's gardens. He was employed by a wealthy family in Johannesburg to build a Japanese garden for them. They had a very historic estate and the owners wanted to rip it all up and turn it into an indigenous garden – the wife wanted a Japanese garden but with African plants," says Tan. "I knew the landscape guy who was working on the project and he invited me there to walk about, stay at the estate and that's when I met this Japanese gardener.
"It's such an evocative job description – the Emperor's gardener! At one stage, the book was going to be called that. I thought, OK, let's see what happens here. Let Yun Ling (the protagonist in The Garden of Evening Mists) meet this man. I thought I wanted to have it in Malaya but the climate had to be right for a Japanese garden, so, by process of elimination, it had to be Cameron Highlands. I liked the idea of tea plantations and I could link it to Japanese tea ceremonies, so everything sort of fell into place."
It's one thing to write a novel and quite another to pitch it. Tan's approach to the writing world is methodical and businesslike, and he reckons it has contributed greatly to his success. "Nobody told me what to do. I just got the Writer's Handbook and wrote out some e-mails," he says of his start. "These days, when I'm at a public reading or festival, I get all sorts of enquiries – how do I get published? Well, you've got the Internet at your fingertips now, do some research! You have to treat it as a profession like any other. If you want to be a writer, you better find out everything you can about the industry, just as how you would if you wanted to be a lawyer or doctor. 'I've written a book, so what do I do now?' I don't know – keep it in your drawer? It's not just talent; it's giving the profession the respect it deserves."
Part of what made Tan stand out was his professionalism. "We were forced to be very meticulous at the first law firm I worked in and that's spilled over. You have to know why a particular word is being used, for example. I was told that part of the reason why my agent signed me on was because I had followed instructions to a T, had my CV and cover letter ready with no spelling errors. That was why they decided to take a second look."
This reverence for the industry extends to his chosen genre. "Before I started writing The Gift of Rain, I thought I wanted to write a very commercial thriller," he says. "And then I tried two pages and was laughing at myself – not to denigrate the genre but because it was so much harder for me to write something like that. To write it, respect it and not mock the reader. So I went back to writing what was most natural to me." Tan is in the midst of writing his third book, a much shorter novel in light of a knee injury that he is still nursing. "I was working on a bigger novel when this thing happened and then I wasn't in the mood to do the research." The book is set in 1910 – "I can almost hear readers going, 'Thank God, there's nothing about Japan anymore'!"
The writer still looks to his literary hero for inspiration. "I read An Artist of the Floating World every year, just to see how Ishiguro does it," says Tan, smiling. "I started out trying to imitate him. Oh, must put a lot of commas – comma, comma, comma! I found it very unnatural for me. After that, I started taking them out and finding what suited me better." If it seems a simplistic way of finding his writing voice, Tan's writing process is even more pared down. "I don't plot. I have a beginning and an end, that's it. I don't know how to get to the end – but that's the fun part."