Arriving at Corsica's Ajaccio airport on an early morning, I face an immediate dilemma: look one way, and I am seduced by the ragged, wind-worn peaks of pine-covered mountains, the promise of fragrant prairies and precipitous views. Look the other, and I am beckoned by the cool blue waters of the Mediterranean, long sandy shorelines and chic French seaside resorts. Wherever you stand in Corsica, the landscape is beautiful.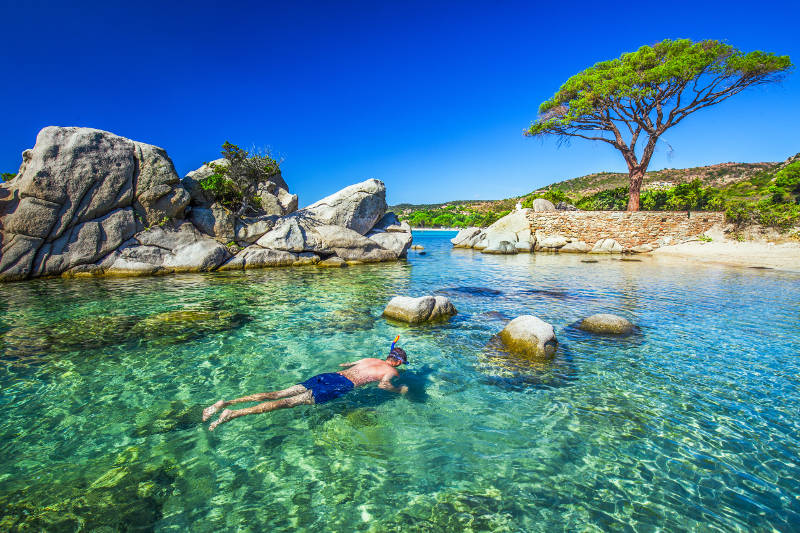 For anyone who arrives in a place only to feel a tug of anxiety about how to cram in as many activities as possible during their stay, Corsica offers little consolation. Already, I am torn. Should I spend my time tramping the cooler inclines of the island's lofty hinterland, visiting its world-heritage worthy towns, or pootling around its beaches? And that's not allowing for meal times and the need to work on a tan. I've packed hiking boots, bikinis and beach books, and I plan to use them all. Just off the plane and already I'm gripped with panic: holiday FOMO (fear of missing out) has set in and I can't wait to get started.
Before we do anything, however, we must get to the other side of the island and find the villa in which myself, my husband, my daughter and daughter's friend will be staying for the week. This entails a long tedious wait at the car-hire desk, which seems to process one car every 25 minutes, and a three-hour drive along one of the island's main roads, the 196, that is as nausea-inducing as it is exhilarating. As we slide around the 700th hairpin bend in short succession, our two pre-teen charges develop an advanced case of travel sickness that puts paid to any further discussion of mountain exploration and requires regular emergency stops in places of tremendous beauty, which are, sadly, right beside the road.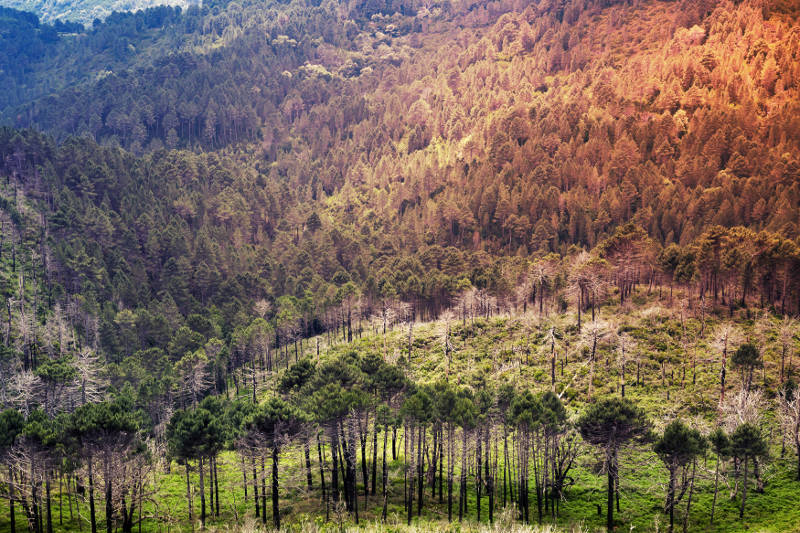 Still, with the windows fully open and all eyes on the horizon, the journey is delightful. Just outside Bonifacio, Corsica's most southerly town, we turn left and travel 20 minutes up a mercifully straight road to the bay of Palombaggia, one of the island's most feted coastlines, and our villa, Tamaricciu, which is found on a steep residential road overlooking the beach of the same name at the southern end of Palombaggia bay.
The villa, with its perfectly heated infinity pool, spacious rooms, clean marble floors and expansive, panoramic views of the sea, has been designed to encourage the laziest of behaviours. It's a place of such carefully curated comforts – Netflix, WiFi, vast deep couches, numerous sun loungers, multiple bathrooms and a fridge stocked with basic groceries and bottles of the local beer, Pietra – that my initial mad excitement is quickly tempered by the terrible melancholia that accompanies the realisation that I will one day have to leave this temple of joys. (I'm the sort of holiday-maker who sets off a Doomsday clock to departure as soon as they get off the plane. I try not to, but I simply can't help myself.)
The villa is operated by the Thinking Traveller, a rental agency founded in Sicily by Rossella and Huw Beaugié in 2002. It now has more than 200 villas and 60 staff, having spread from Sicily to Puglia, Greece and, this year, to Corsica. Tamaricciu is one of four properties on the island, each sleeping up to 10 and furnished in pale tones of chalk that suggest a quiet, well-laundered sort of luxury. They are tremendously lovely places to stay, and what they lack in rustic charm, they more than make up for in convenience.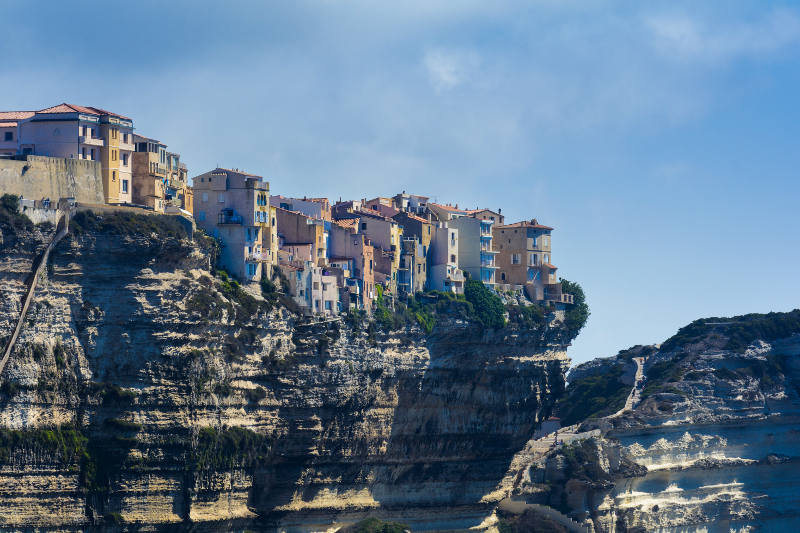 Throughout the week, we are looked after by a local agent, Jean-Charles, who deals patiently with all our practical incompetencies via WhatsApp, and the house is cleaned mid-week. In addition to fixing the WiFi and showing us how to use the hob, Jean-Charles is also on hand to advise us about which local restaurants are any good, when the local markets open and where to book an afternoon's hang-gliding or deep-sea diving. And for those too lazy to leave the villa, Thinking Traveller offers the services of an 'experience specialist', or chef, who will cook you dinner.
On our first night, wiped out after a 4am check-in, we have the chef arrive at 4pm to rustle up a pre-ordered menu of gazpacho, Corsican veal and polenta, and roast peaches set in rosemary jelly. It's very tasty. But while I've long considered the employment of a personal chef to be the zenith of human achievement, the odd formality of watching someone cook such fancy food for our small group of four is a bit hard on the digestion.
Being the parent of an only child, I have rarely wanted a villa holiday. The guilt of seeing my lone daughter paddling sadly around an empty pool waiting for someone to play with her has always been a bit much too bear. Typically, our holidays have incorporated social interaction: road trips, hotel stays, holiday communes (where other families can be found in close proximity) and campsites (well, only one campsite, as it happens. Turns out some proximities are a little too close for comfort).
Villas, and the fear of lonely isolation, have always seemed too risky an option. I once invited myself to a friend's place, but future invitations were later withdrawn when my then toddler tried to drown their son in the swimming pool, and I'm too antisocial to commit to long shared holidays with other families. I am happy, however, to share their children and so, now that my daughter is old enough to manage interactions that don't require much supervision, we have brought her friend along.
This small tweak in the arrangements makes for a transformative holiday experience: the girls are completely preoccupied with each other and their iPhones, and I am left in splendid peace. I read three books, obtain optimal tan lines and drink beer for breakfast. I feel a bit bad for doing so little, but it feels so very good. Nevertheless, I get itchy. By the second day, it is I who am sploshing around the pool looking for someone to play with. (My husband, a writer, has brought work with him and refuses to speak to me until lunchtime.)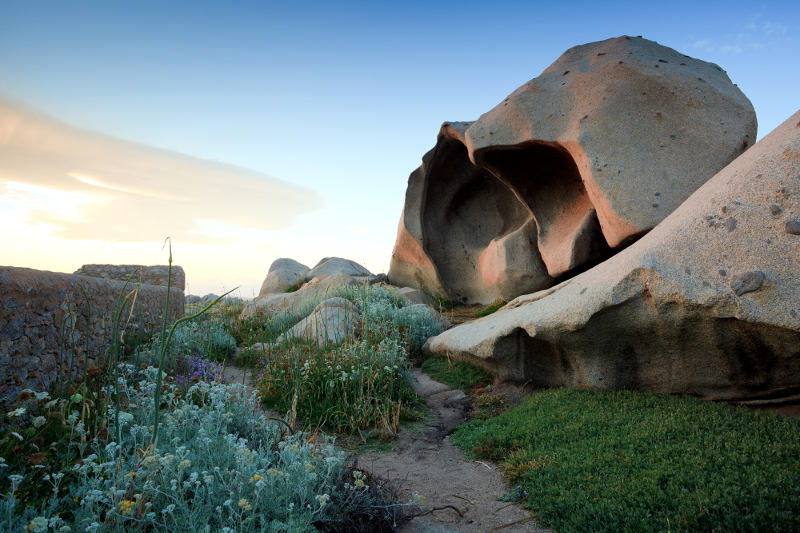 And so the pattern of the week emerges. Mornings are spent idling by the pool trying to prevent an inflatable unicorn from nosediving over the infinity bar, while afternoons are spent exploring the local area, which is unfailingly lovely. Palombaggia is impossibly gorgeous: a long narrow stretch of coarse white sand, fringed with pine trees and punctuated by outcrops of vast rocks, as smooth and sculptural as a Henry Moore installation. In early summer, when the flowers are still in bloom and the summer heat is only just beginning to rise up the thermometer, the sea water is still fresh and busy with fish.
The island is also quiet without feeling empty: the beaches are mobbed, however, in August. And it's brilliantly, devilishly French. Even though the island sits only a few kilometres north of Sardinia, its sensibilities are powerfully felt. You can smell it on the sandy walks to the shore where the distinctive perfumes of the pine trees evoke the lazy thrill of Françoise Sagan's Bonjour Tristesse. You see it in the local supermarket with its embarrassment of goat's cheeses, charcuterie and Carambars. And you can feel it in the ever so slightly lofty froideur you encounter on entering a restaurant.
You can see why the locals might seem a bit pleased with themselves. Each turn of the road in Corsica offers yet more scenic bounty. Coast roads run alongside lakes that reflect back picture-perfect reflections of faraway mountains; the sea flickers seductively rose at sunset; the women all recall heroines from the films of Eric Rohmer.
Bonifacio, perched on the striated sandstone cliffs of Corscia's most southerly tip, is very pleasing, especially when combined with a trip to the nearby island of Lavezzi, a barren granite nature reserve that features beaches to rival the Maldives and a cemetery commemorating the lives of the many sailors who have perished on its rocks. What's more, the boat trip out to Lavezzi offers a view along the crumbling, chalky coastline and the ancient buttresses that prop up the old town. Athletic types can mount the Escalier du Roi d'Aragon, a punishingly steep 187 steps carved into the cliff face in 1420 and used by the King of Aragon to lay siege to the citadel, while 12-year-old hedonists head to the harbour for langoustines and a glace aux noisettes. And I even get to climb a mountain. Or, rather, a steep hill, found on the road that leads to the mountain village of Zonza, 45 minutes north of Porto Vecchio, where a 90-minute hike leads us to the Piscia di Gallo waterfall. The walk, which passes mountain rivers, vast monolithic rocks and streams that burble through sun-dappled woods, is as satisfying and dramatic as any I've done. Like a miniature run of the Rockies – with a cold Orangina at the end. And the waterfall, which plunges through the pink granite to the valley below, and offers a knockout view of the sea, is worth at least some risk of car sickness. You don't even need to wear hiking boots.
TEXT JO ELLISON / THE FINANCIAL TIMES LIMITED
IMAGES SHUTTERSTOCK